Better Call Saul' season 2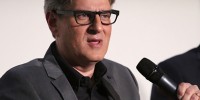 By
Zubera
- May 02, 2016 03:13 PM EDT
"Better Call Saul" has seen a handful of "Breaking Bad" cameos and creators Vince Gilligan and Peter Gould are promising more as the season 2 of the award-winning series has come to a close. And now, it looks like the two producers are cooking up some arrangements involving some of the cast from HBO's hit fantasy series, "Game of Thrones" too.
By
Zubera
- Apr 13, 2016 11:47 AM EDT
'Better Call Saul' season 2, Will Gustavo Fring be back?